Tips And Tricks Of Shareaza


This section is compilation of small tricks that i like abt Shareaza
How to transfer a file to ur friend?? U have a File that u want to send it ur friend...This can be easily done by Shareaza by creating a Gnutella Link..Here is how u do it
Step 1
Goto Library window in ur Shareaza where all the shared files are Listed there select the file u want to send if it is not shared then share it using Add Folder
Step 2
Right Click On the File then a menu will open in this select copy URL.
Menu will Look like..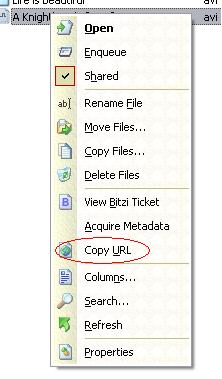 Step 3
A dialog box will open showing two link options First select the option Include...and then click on any one of the links
The dialog looks like this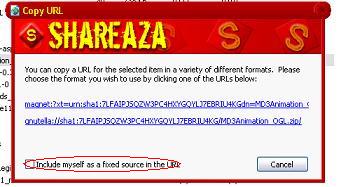 Step 4
Now the link is copied to ur Clipboard send it to ur friend when he/she enters it in the address bar of IE or executes frm Run option of windows Shareaza will start download :D

Improve Ur search results
Step 1
Goto View -> Security and once the security window is open Right click and select add rule
Step 2
In the Dialog select Network(IP) Address in the type drop down box and add ur ip address for ip address
Step 3
Now make the action Deny and expire never....and click OK
Step 4
Now in the security window right click on the new rule and select move up...use move up until it is top most security rule


If u have found some interesting usage of Shareaza and want to tell everyone mail to me tirupraveen@hotmail.com